Extinction Rebellion is a global nonviolent movement to compel the world to address the climate and ecological emergency.
CLICK HERE TO GET INVOLVED
Events

---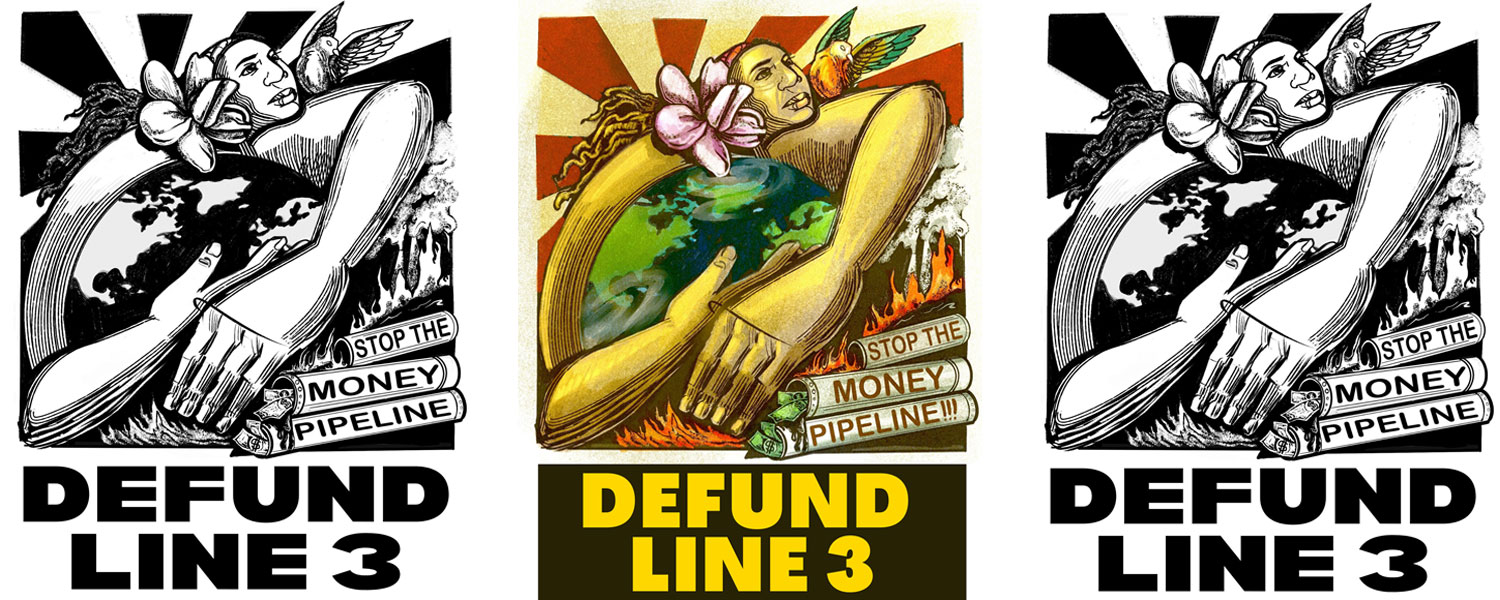 (Artwork by Crystal Clarity) 
What: Street Actions in SF to #DefundLine3
Where: 532 Market, San Francisco, CA 94104
When: Starting 9 AM, May 7th, 2021
For years, Indigenous communities and allies have been opposing the construction of the Line 3 pipeline, which would transport nearly one million barrels of dirty tar sands oil - every single day. Enbridge Energy, the company building the pipeline, has a terrible environmental track record, and this pipeline would violate several treaties with indigenous communities.
Indigenous-led water protectors and allies in Minnesota are taking action every day to stop the construction of Enbridge's Line 3 pipeline - confronting bulldozers, decision-makers, and the politicians that are putting profit before people. Pipelines take billions of dollars to build - and banks like JP Morgan Chase, Wells Fargo, Citibank, Bank of America, TD Ameritrade, Union Bank - as well as insurers like Liberty Mutual - are bankrolling Line 3.
As part of a Global Day of Action May 7th - we'll be mobilizing in San Francisco's Financial District to send a clear message to the banks and investors that they must #DefundLine3. 
---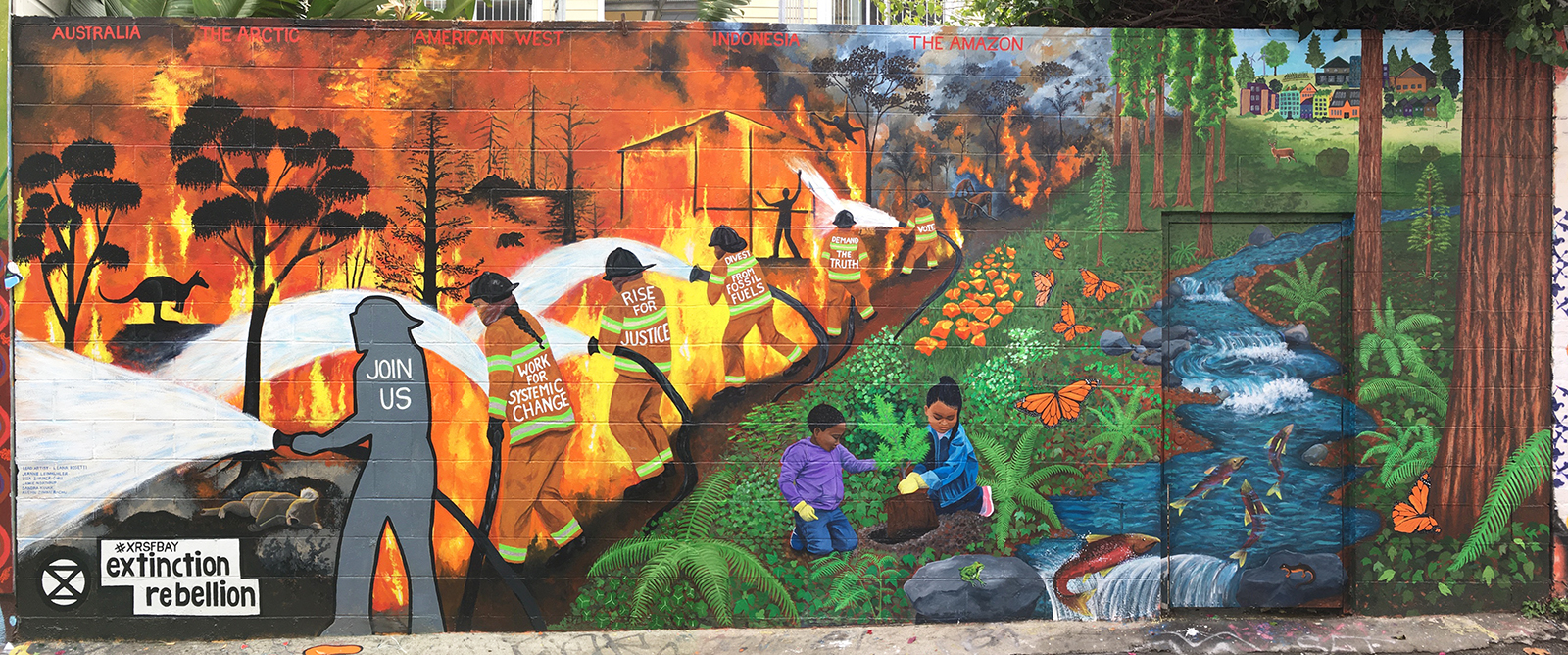 When: Sunday June 6th (TENTATIVE DATE), 2021, 1:00 - 3:00 PM
Where: Clarion Alley, between Mission and Valencia Streets and 17th and 18th Streets in San Francisco.
Come celebrate the unveiling of Extinction Rebellion San Francisco Bay Area's new mural, "The world is on fire," with music performances, art activities, storytelling and some surprises!
The mural is larger than life and has to be seen in person to fully appreciate the love and detail that our Art Working Group painters put into this over many months during COVID lockdown in 2020. Now that we can finally be out on the streets again, come celebrate and find community in the power of creativity to help us #TellTheTruth and turn the tide on the climate and ecological emergency.
---
News

---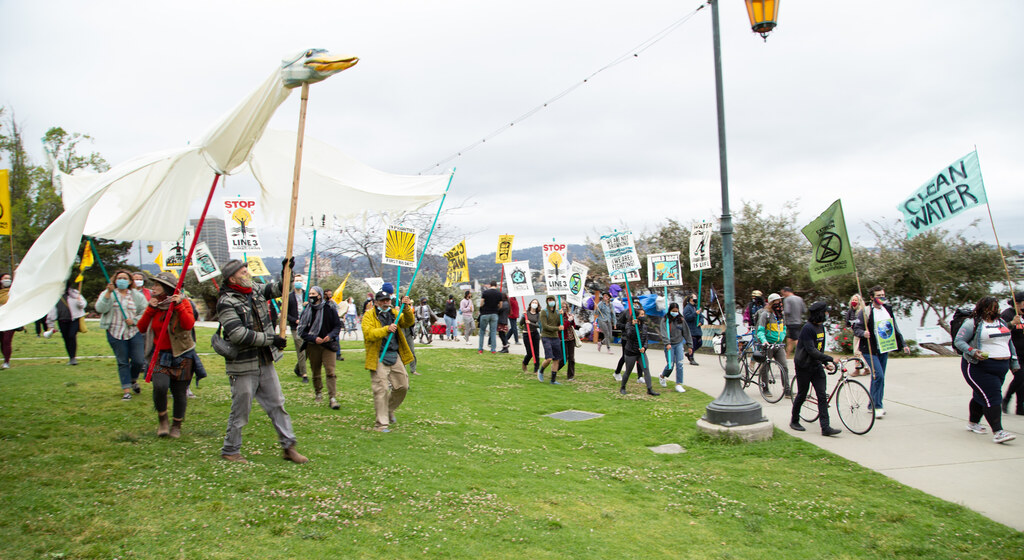 We are celebrating the success of our Extinction Rebellion SF Bay-organized event, Earth Week Gathering Oakland 2021, with support from 350 Bay Area, Artists Building Communities, Climate Creative, Essential Food and Medicine, Living Earth Designs, Sunrise Movement Bay Area and the Wood St. Encampment Residence / Cobb on Wood. There were also many more individual supporters, social media co-sponsors and speakers who deserve recognition as well, thank you all!

On Thursday, April 22, for Earth Day, members of Extinction Rebellion San Francisco Bay Area turned up to support residents of Bayview Hunters Point and Treasure Island in their demands for environmental justice.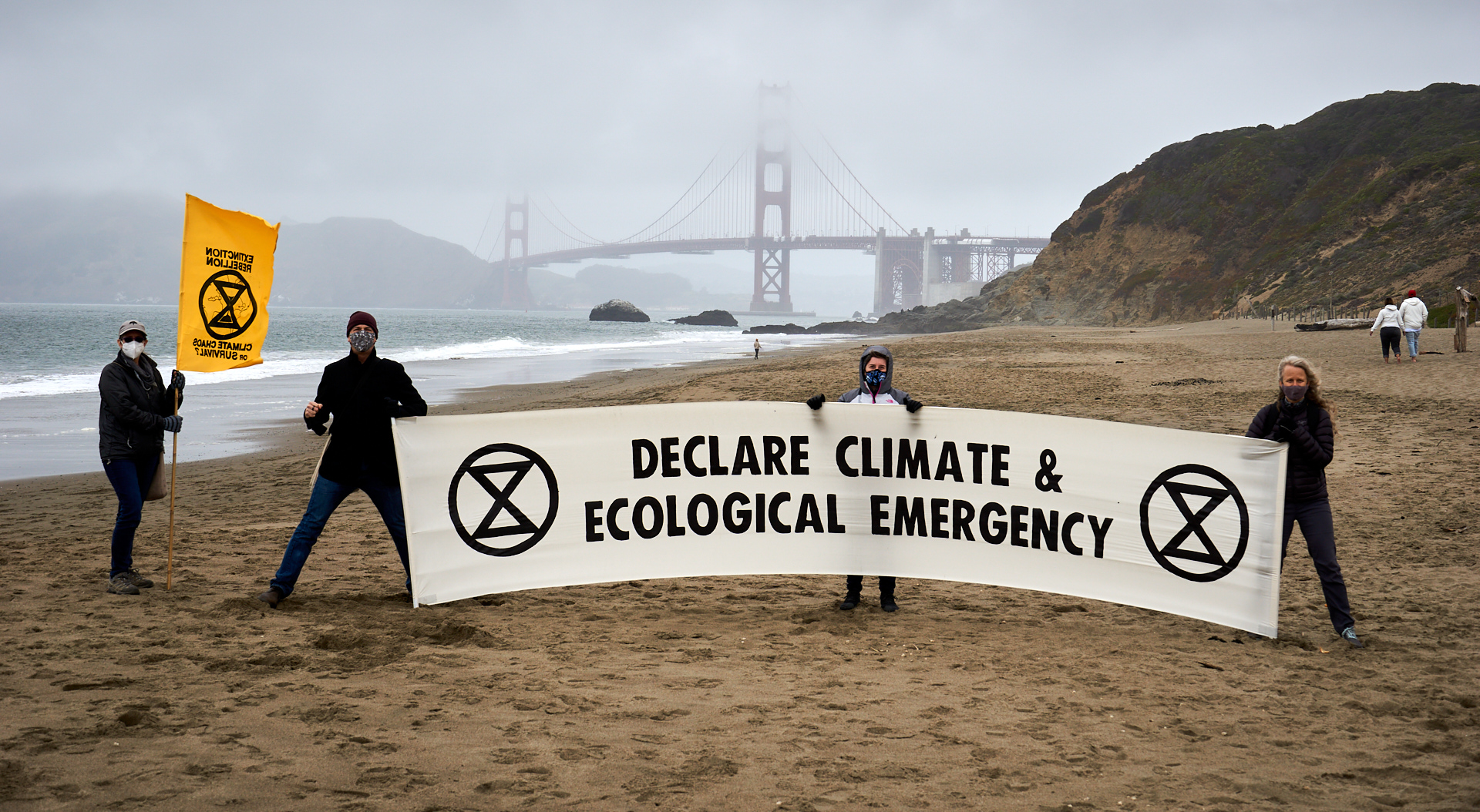 For Earth Week 2021, XRSFBay painted and flew a large banner at various bridges and locales around the Bay Area as part of a campaign by over two dozen Extinction Rebellion chapters across the US to urge the Biden Administration to declare a Climate and Ecological Emergency!

Join Extinction Rebellion.
Rebel for life.
Extinction Rebellion is a 100% non-violent civil disobedience movement aimed at nothing less than radical system change. Our rebellion is fueled by our love for humanity and for all life on earth.