The People Vs Wells Fargo

Photo: Mark B
Bright and early on the morning of April 24 2023, XRSFBay along with many other local grassroots climate action groups gathered at the headquarters of Wells Fargo bank the day before their annual shareholder meeting. We disrupted business as usual for the day to urge the passage of four fossil fuel divestment-related shareholder resolutions.
Wells Fargo invested close to $39 BILLION in fossil fuel projects during 2022 alone. They have invested over $318 BILLION in oil and gas financing since the Paris Climate Agreement was signed in 2016.
Click below for our playlist of THREE short recap videos from the action.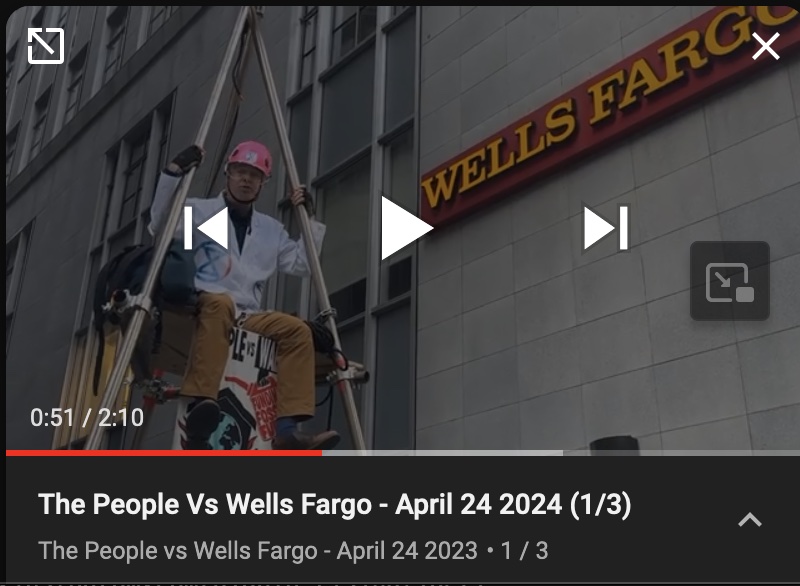 Video credits: Lis Cox, Joseph DeRose, Peter Menchini. With additional footage from Lewis Bernier and Pete Woiwode.
The action got evening coverage in local TV News on CBS, ABC, and NBC – as well as in major publications like The Guardian UK, Reuters, The Washington Post, and Common Dreams.
Action collective included @1000grandmothersbay @350bayarea @rtbayarea @idlenomoresf @bayareasunrise @directactioneverywheresf @xrsfbay @oilandgasactionnetwork @diablo_risingtide @extinctionrebellionla @scientistrebellion @davidsolnit with support by @risestjames @greenfaith.us @amazonwatch @thirdactorg and many more!
Get in touch with us if you'd like to work towards building a future free of fossil fuels! Actions like this require collaboration between people from all walks of life with a variety of skills and roles.
Click on any photo to see full size gallery…
Credits: Brooke Anderson, Kelly Johnson, Nate Love, Joseph DeRose, Suzzy, Dolphe Gouin, Pamela Dreyfuss, and Jade Northrup.