COP26 Climate Justice March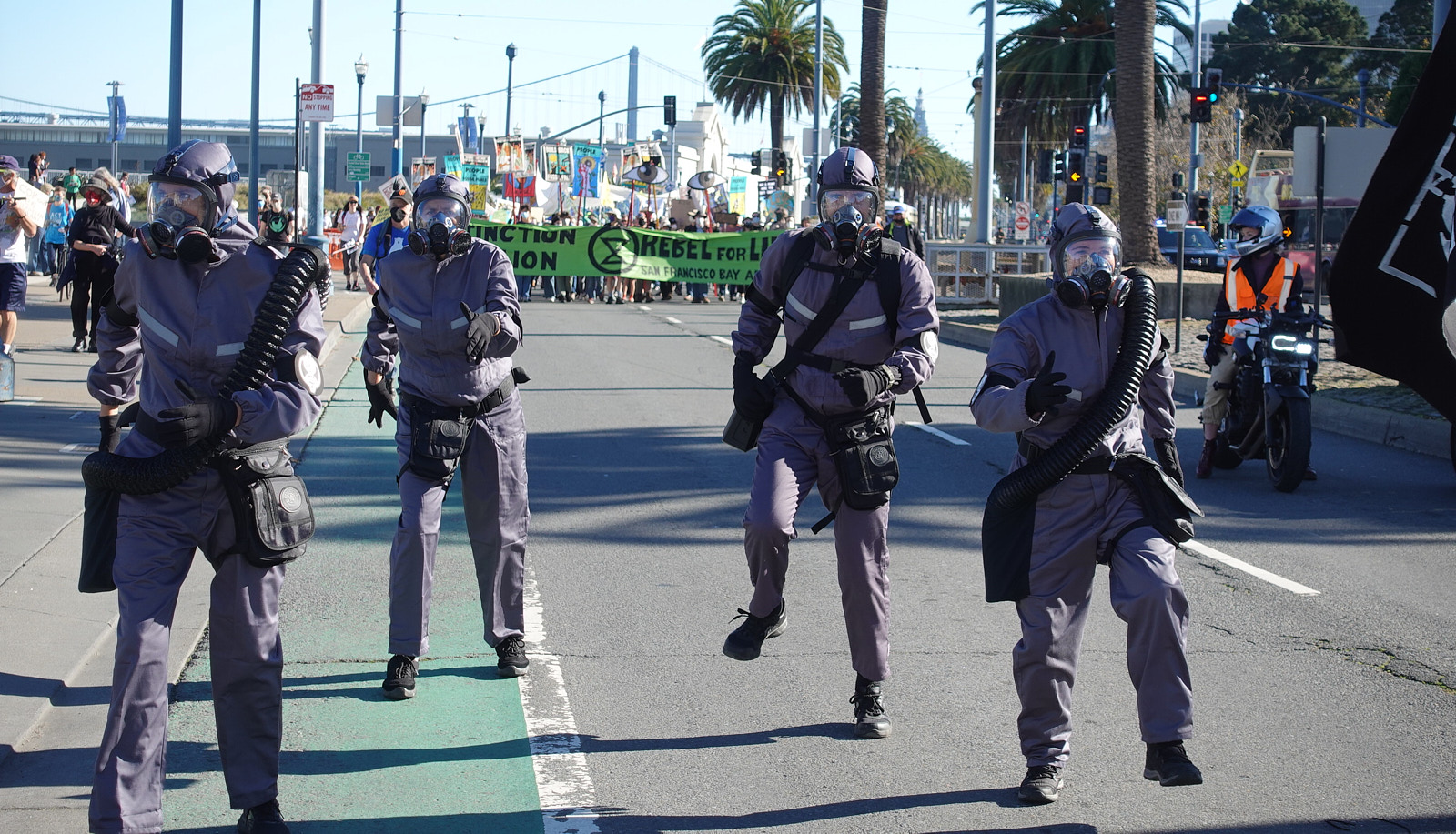 On the eve of COP 26's conclusion in Glasgow, over 300 rebels marched along San Francisco's Embarcadero roadway to demand that global leaders declare a climate emergency. We marched in solidarity with the tens of thousands of activists who have spent the last two weeks demonstrating in Glasgow, making our call for Climate Justice impossible to ignore.
After 25 COP assemblies of empty promises, COP 26 is also failing to make the largest historically emitting countries end their environmental devastation and pay damages to the communities most affected by climate change. Learn more about XR's charge against COP 26.
Activists assembled at the Ferry Building to the sounds of the Bay Area's Musician Action Group. The group then united with a silent meditation before joining in calls to "look" at the problems of the world, "listen" to the truth of who is responsible and "decide" to take action.
The march departed the Ferry Building and walked north for two miles on the Embarcadero. The group was packed with colors and costumes, featuring handmade puppets of fish and other aquatic species threatened by climate change. Flyers handed out along the way explained how COP is failing us.
The march ended at Aquatic Park in San Francisco, where street performers including Lamentors, Xtractors, and a turquoise Rebel Brigade told a future story of distress in a world of rising seas and extreme weather, standing in the sand in front of San Francisco Bay.
Instead of speakers, musicians performed while activists were invited to contribute their own voices in art and writing exercises. Messages were written about visions for the future, a future where children only "learn about fossil fuels in history class".
Thank you to everybody who joined to amplify our collective voice to world leaders at COP26. As leaders and executives fly home on private aircraft from COP 26, the climate crisis rages on. Join us in continuing to #rebelforlife for a vision of a more just, equitable world.
The march was featured on KPFA radio and KTVU Fox 2 News. Browse photos from the event below and find more photos on IndyBay.
Organized in collaboration with climate and ecological justice partners:
SF Bay Rebel Brigade
… and many more
Click on any photo to see full size gallery…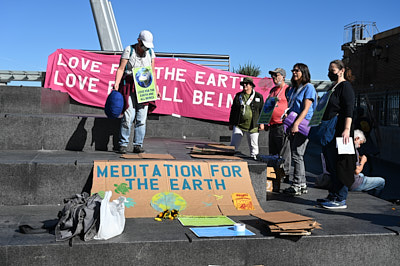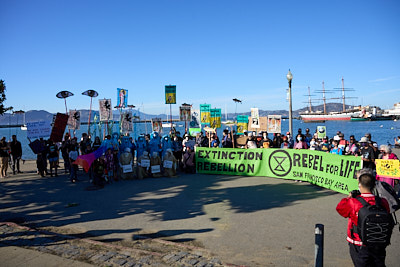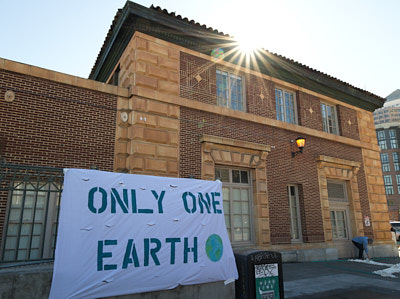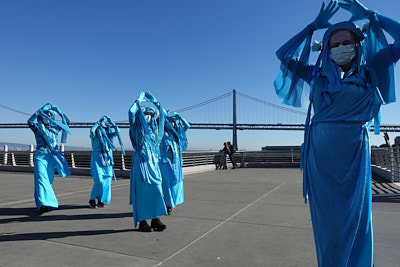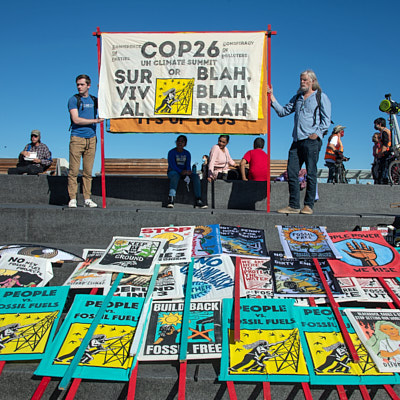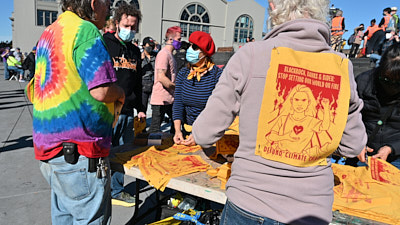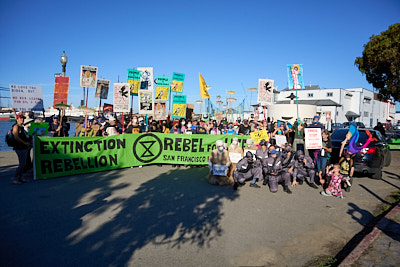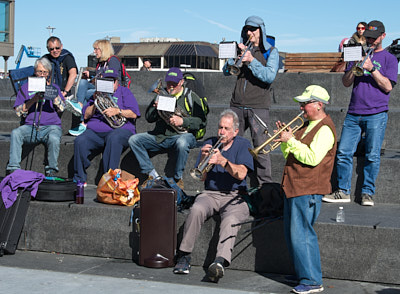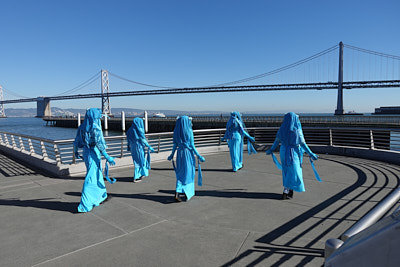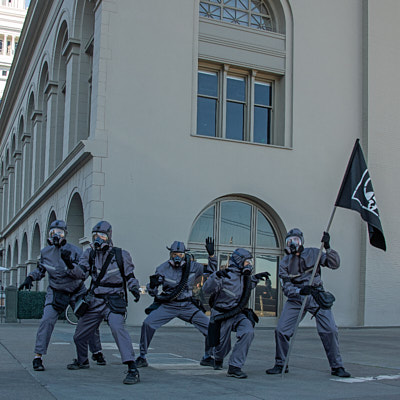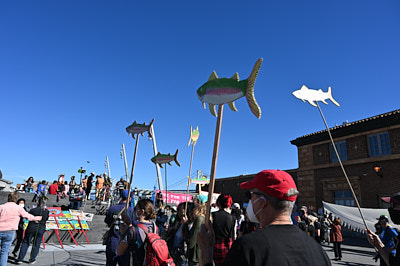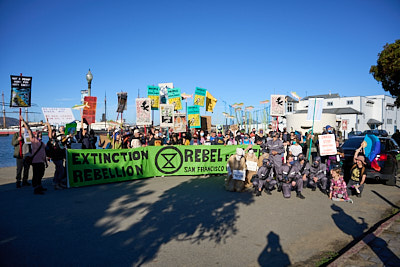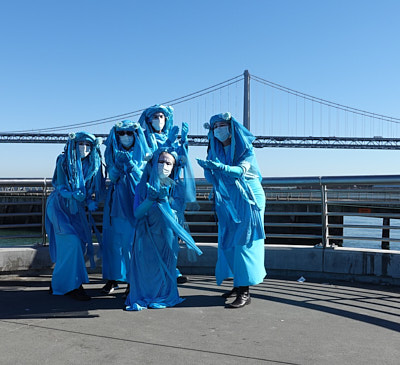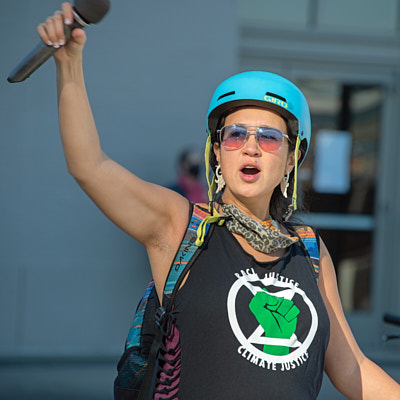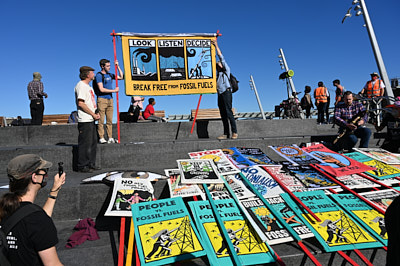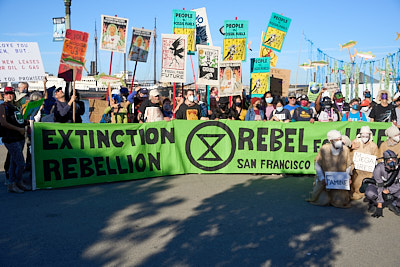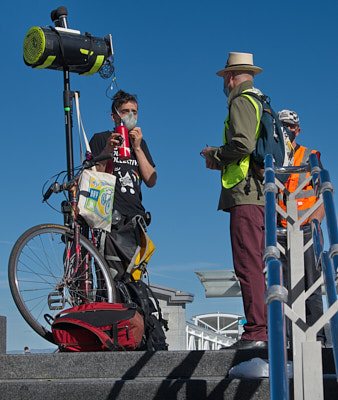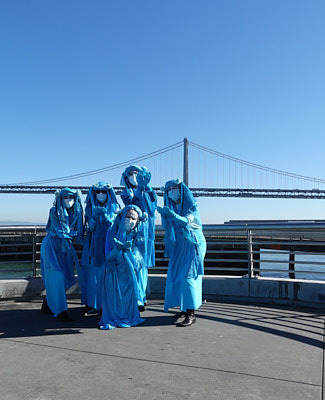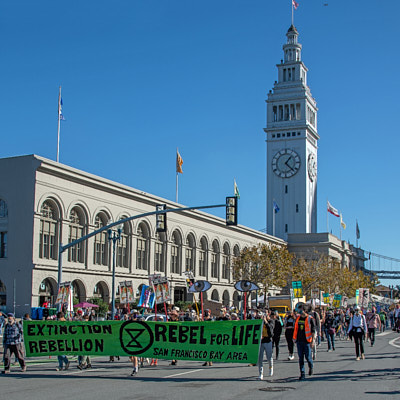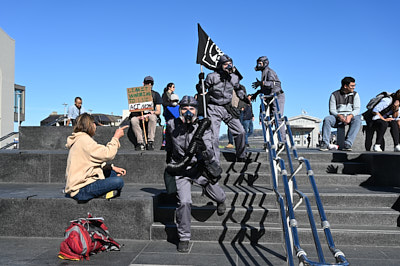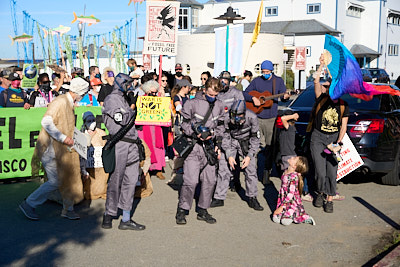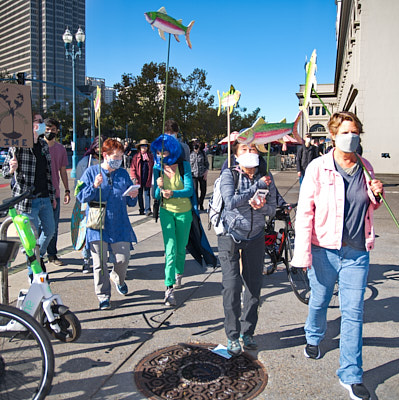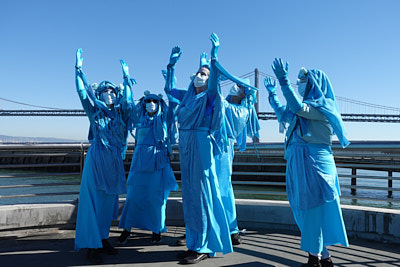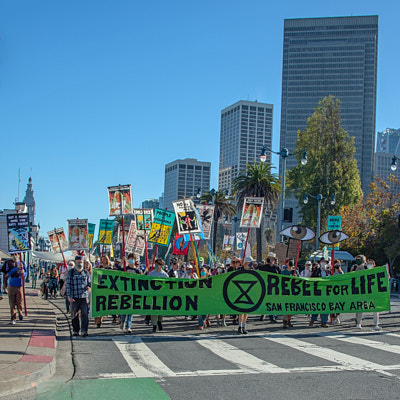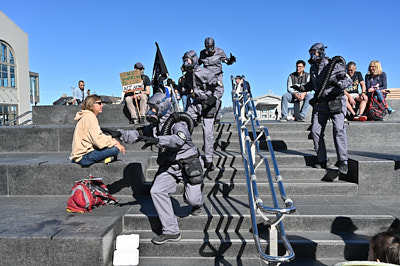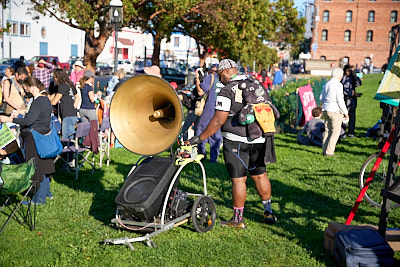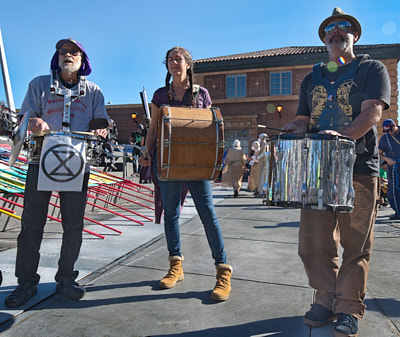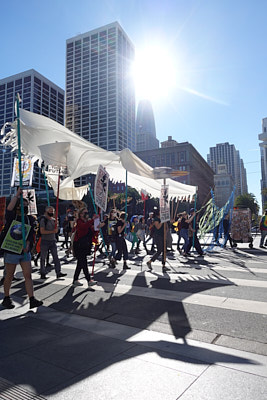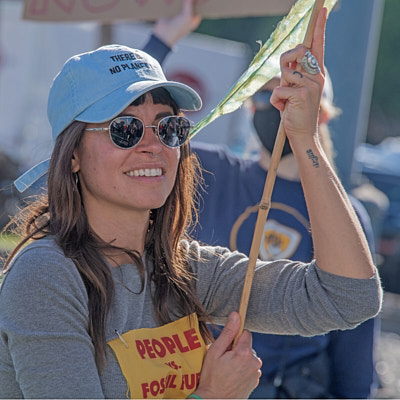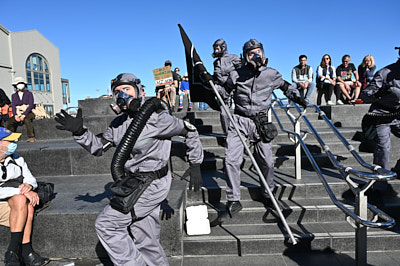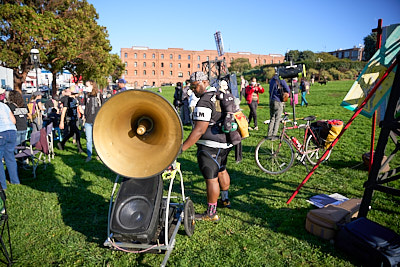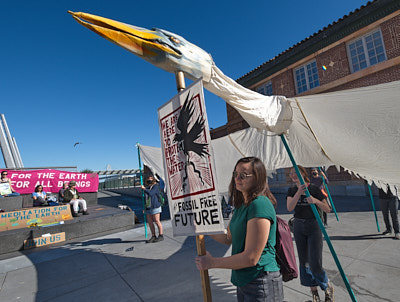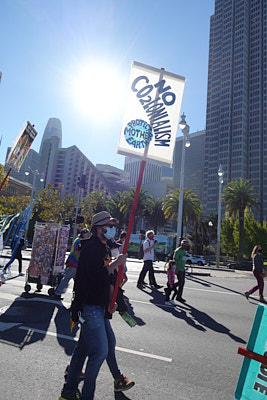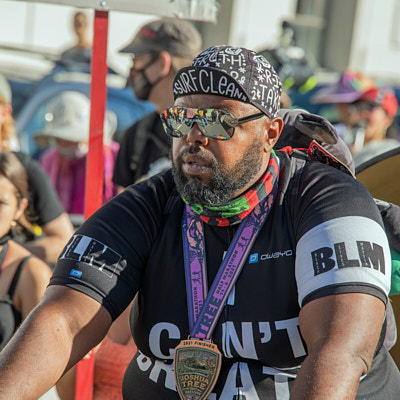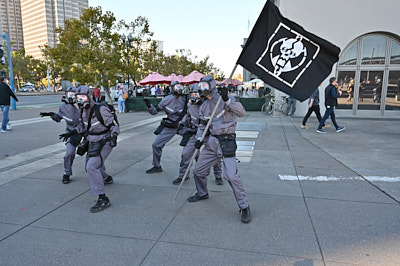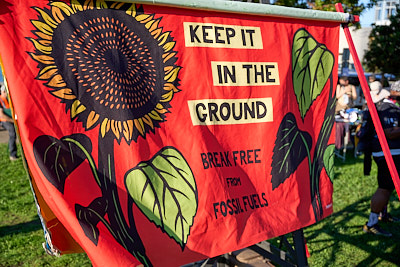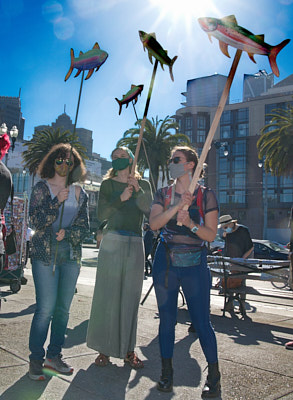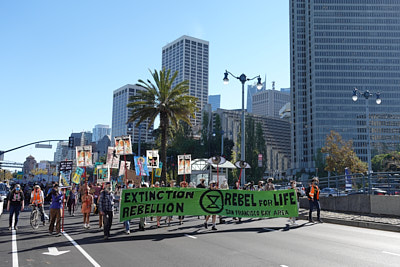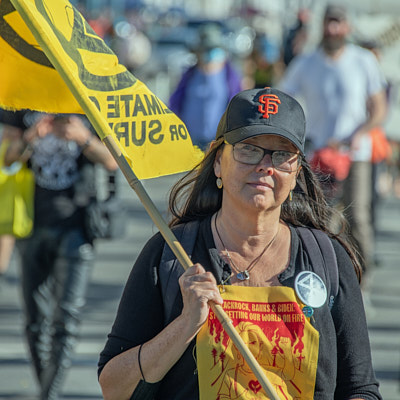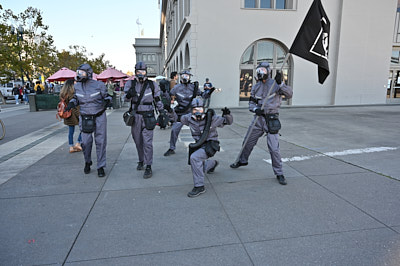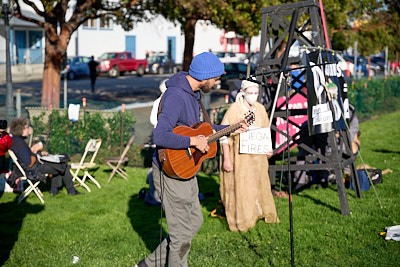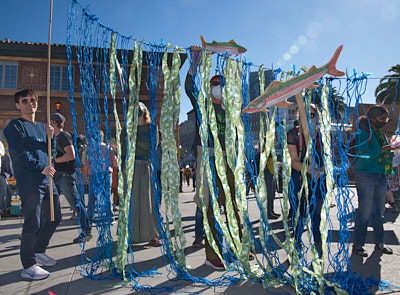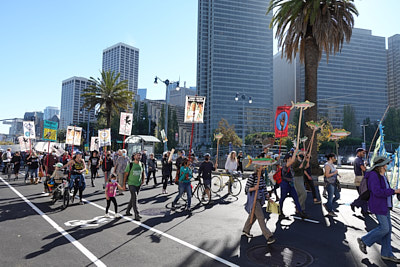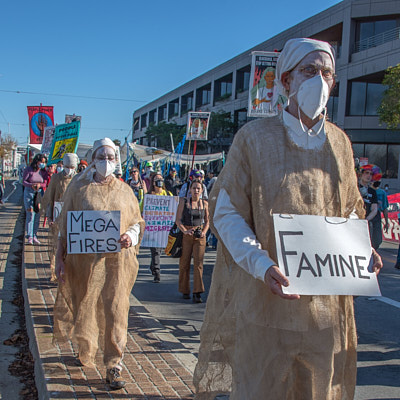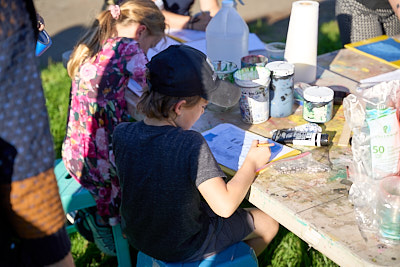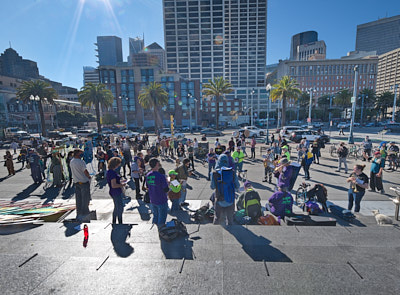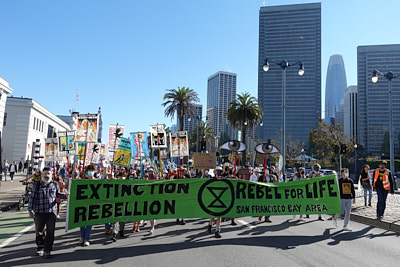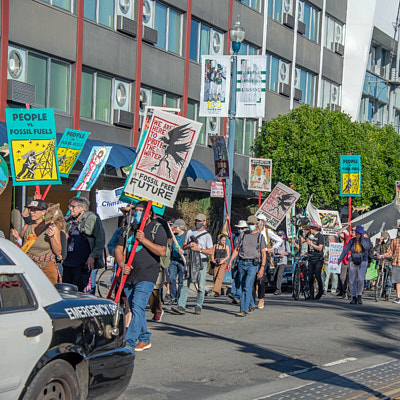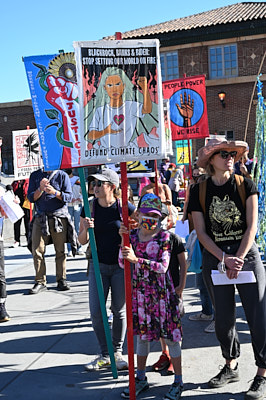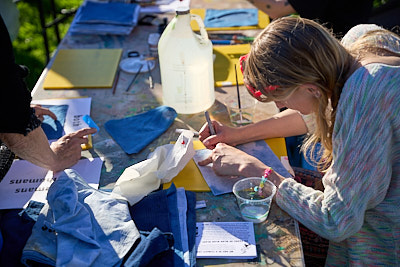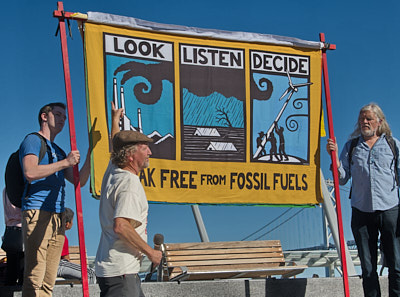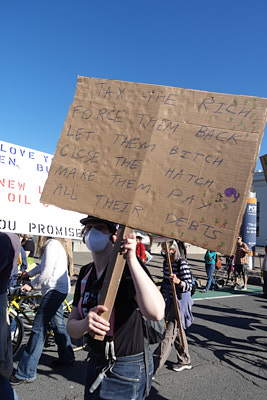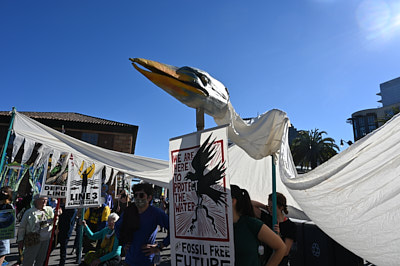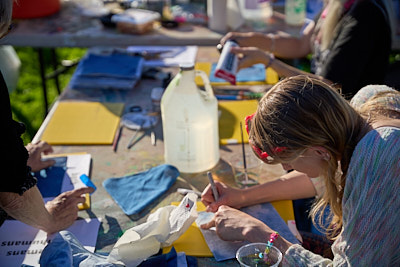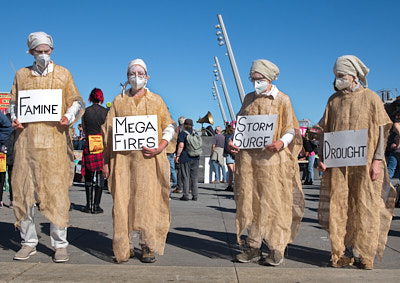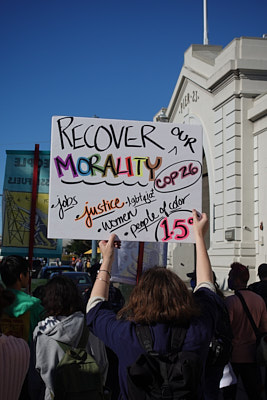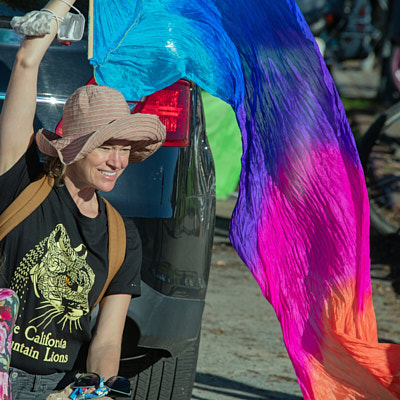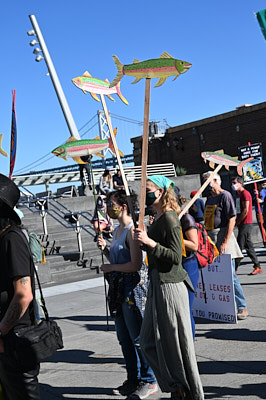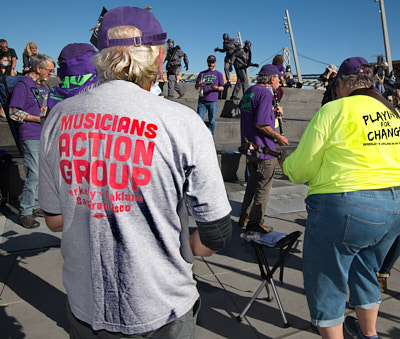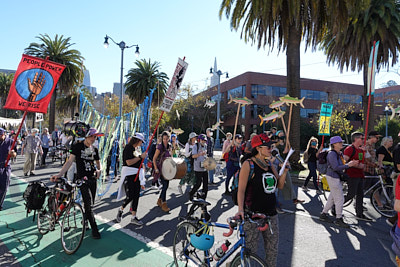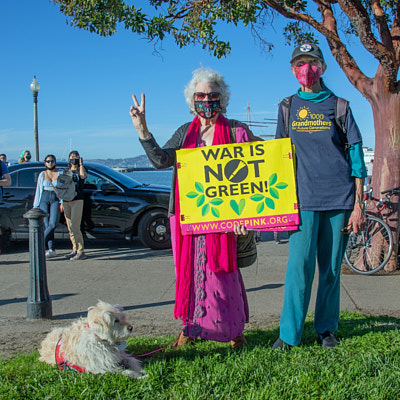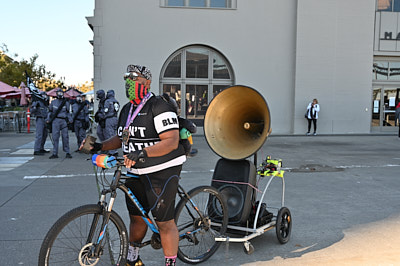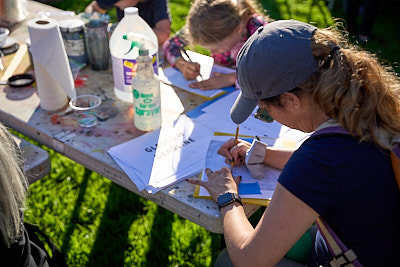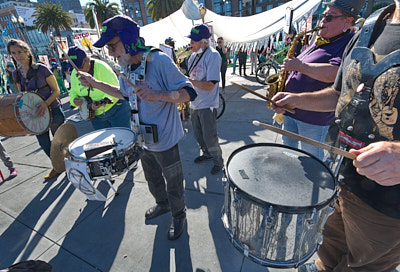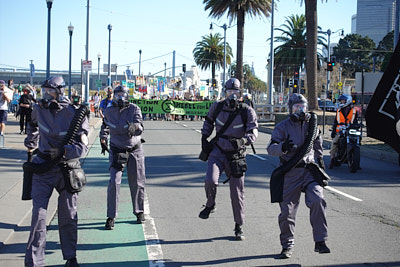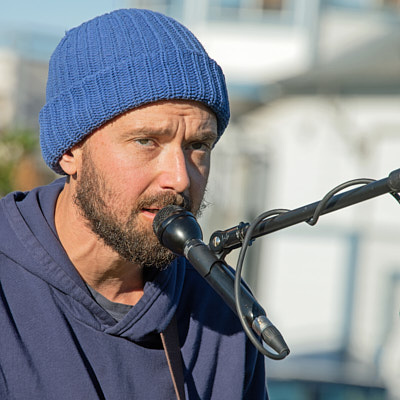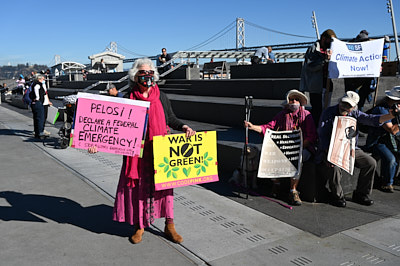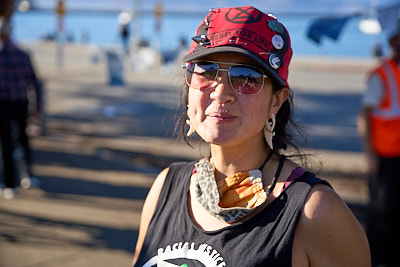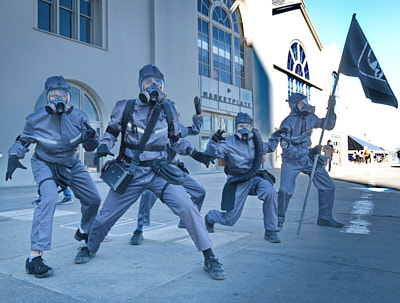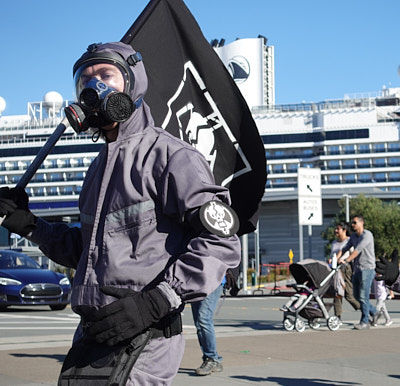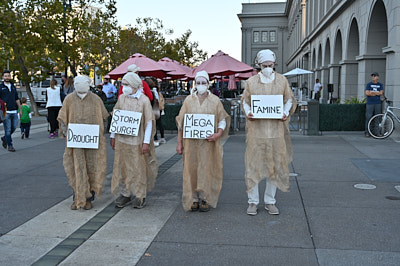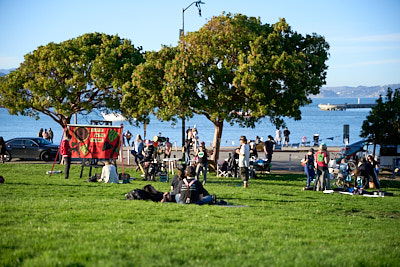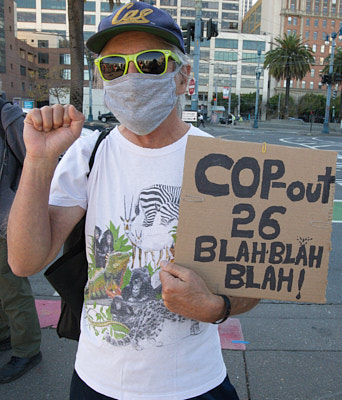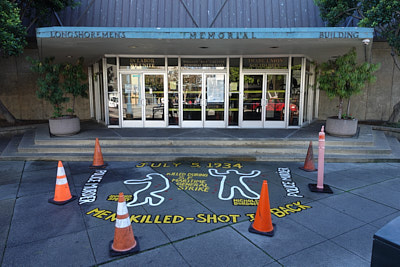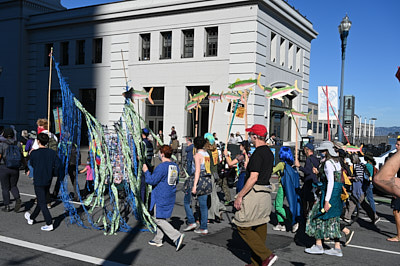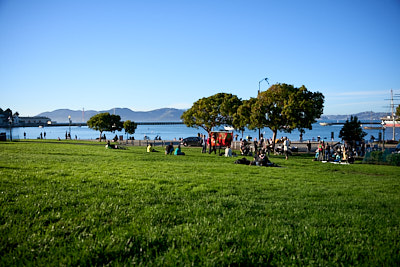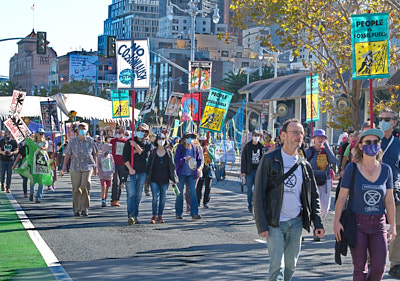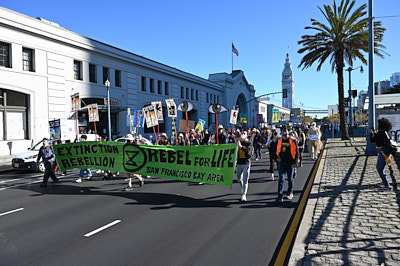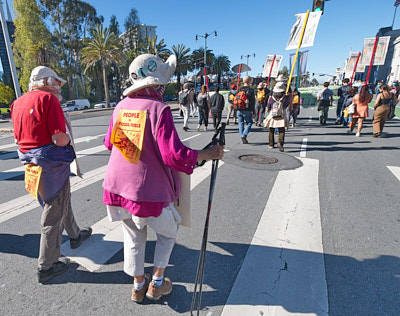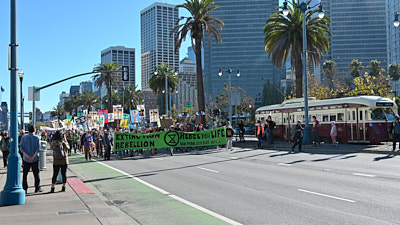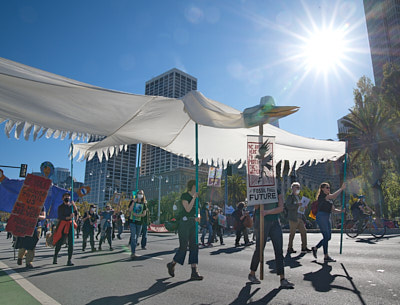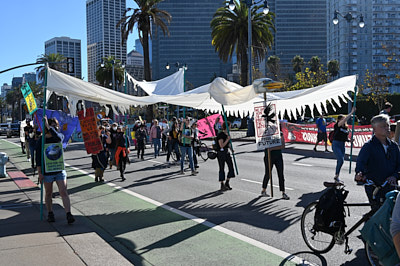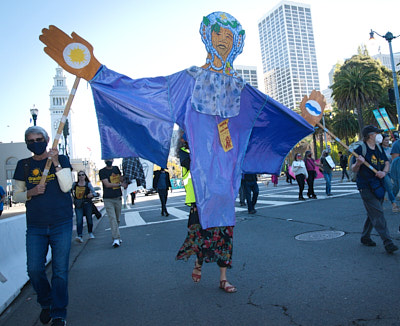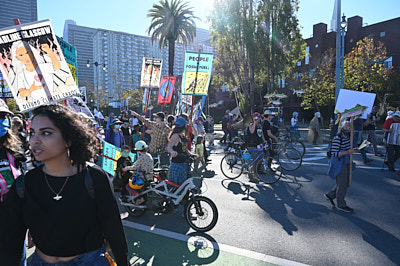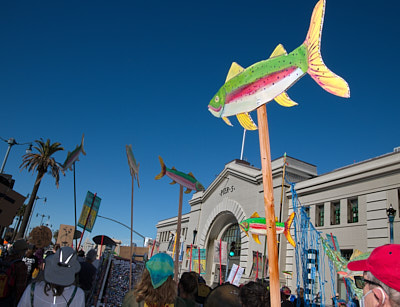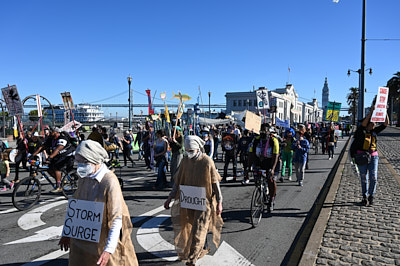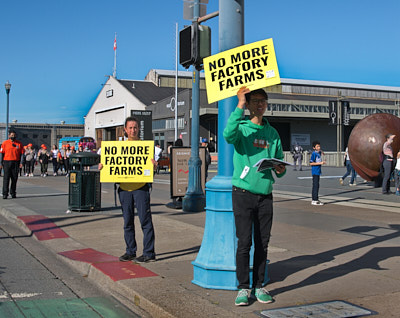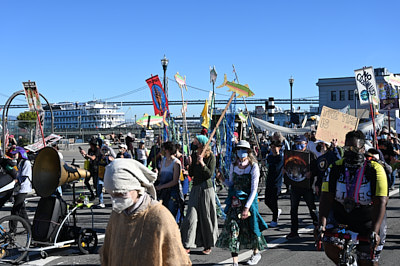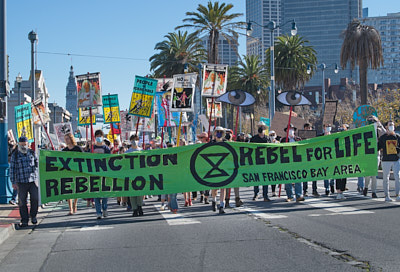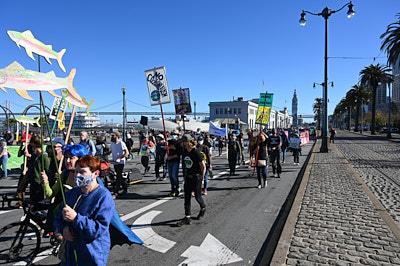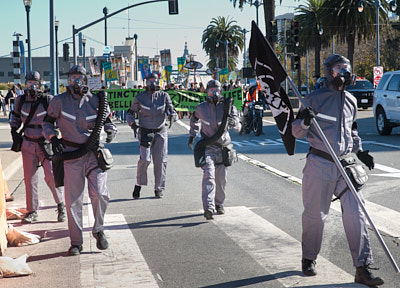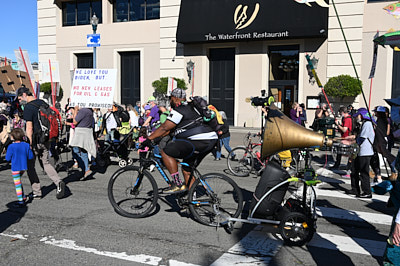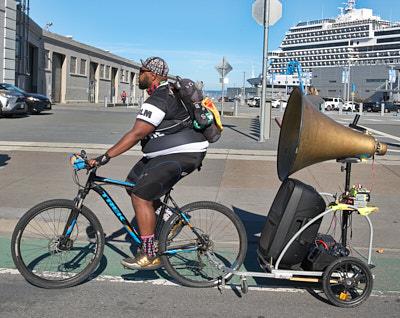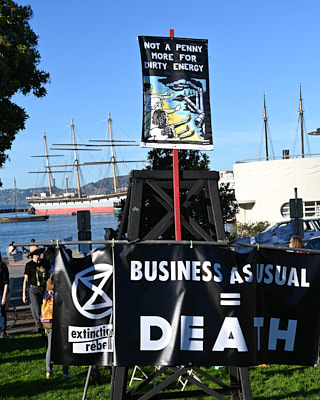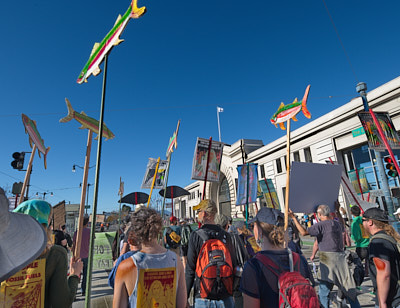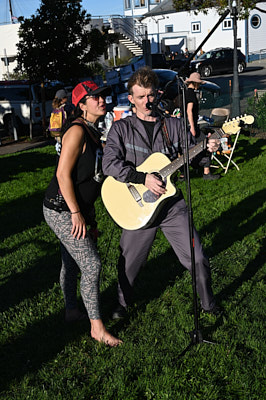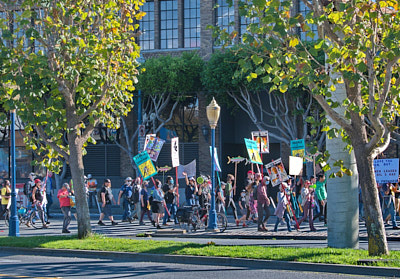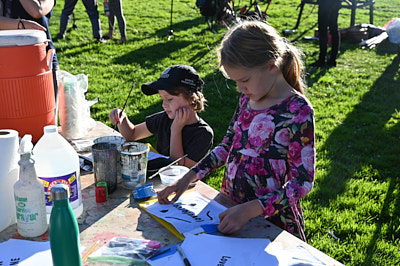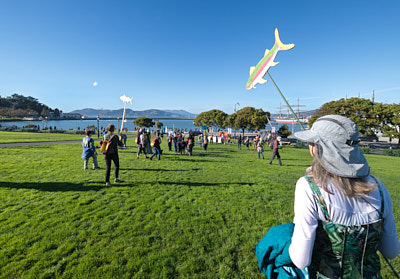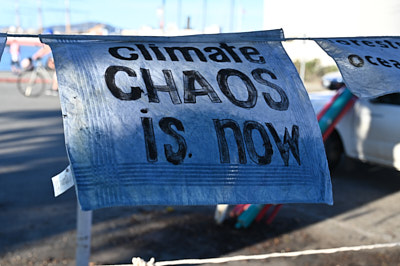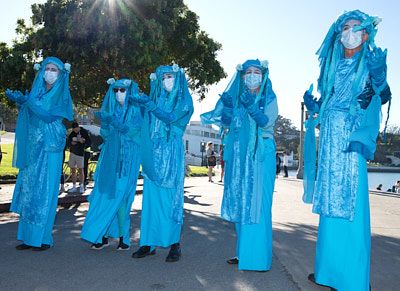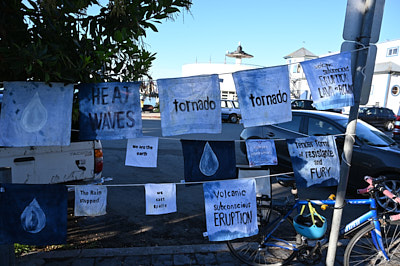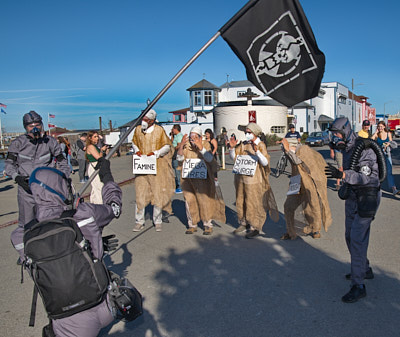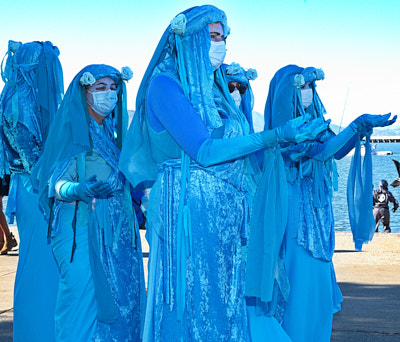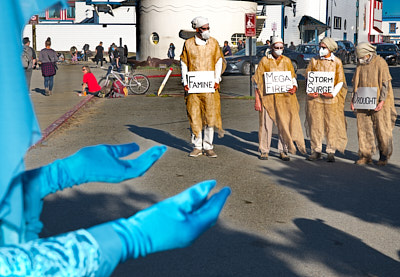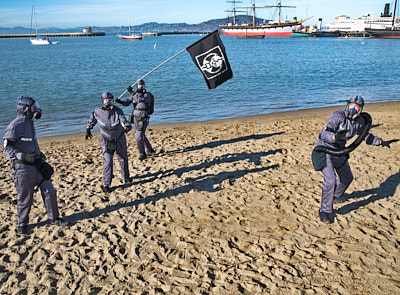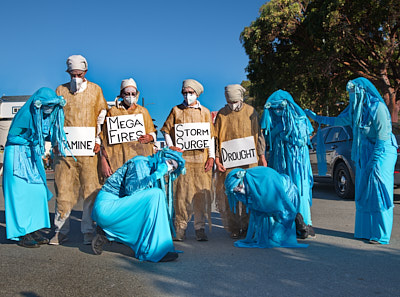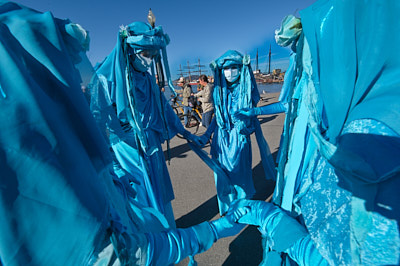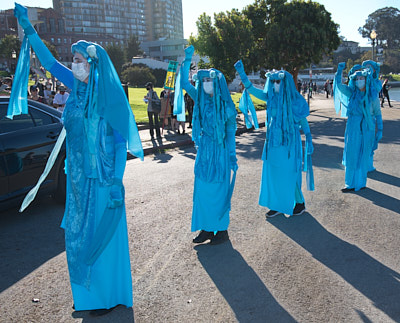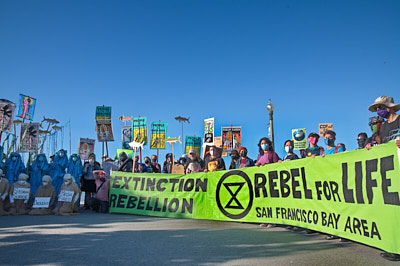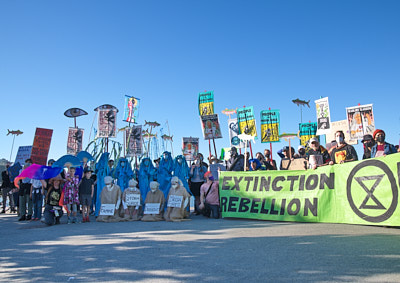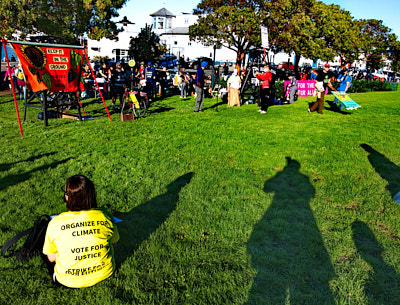 Photo credits: Leon Kunstenaar, Arthur Koch, Levy Schlaffer, Randall Smith, Jade Northrup
About Extinction Rebellion
Extinction Rebellion is an International, 100% non-violent, civil disobedience movement that aims to drive radical change through direct action to avert climate catastrophe and minimize the risk of human extinction and ecological collapse. XRUS has four demands: 1) Tell the Truth about Climate Change.  2) Reduce CO2 emissions to net zero by 2025. 3) Create a Citizens' Assembly to oversee the changes. 4) Prioritize frontline communities in a just transition.
If you'd like to join us in building community, or creating transformative art confronting the climate crisis, or helping us plan direct actions in the streets … get in touch by emailing us at welcome@xrsfbay.org — and make sure you are signed up for our email newsletter to get updates on upcoming events.
Follow Hashtags: #ExtinctionRebellion #XRSFBay #ClimateEmergency #COP26 #COP26Rebellion #BuildBackFossilFree #NoBloodForOil